Benefits of Shiatsu Massage For New Moms, Post-partum
A Post-natal massage or, Postpartum Massage search may have sent you here. I"m a bodyworker specializing in shiatsu massage. Shiatsu (she-AT-SU) is a bit different than regular "massage." The benefits of shiatsu for the new mom are many and I believe even more helpful than typical Swedish or Western style massage. I'll say why in this article. I'm now based in Ithaca, NY. If you are local, feel free to contact me- if you'd like to book an appointment  or have questions.
Why Mom's Need Massage Post-partum:
The time after the birth of a baby is so important for the child and mother and of course the whole family. There are so many stresses, whether natural birth or C-section you have bodily issues and discomfort to deal with post-partum. And this at a time when you need to give full and constant attention to the newborn, changing diapers and feeding every few hours.
If family has now left and a partner is back to work, the woman may be left alone all day with the new baby. This at a time when you are exhausted from the birth and perhaps poor sleep for months before that. Now with the baby you are waking up in the night and unable to catch up on much needed sleep. It truly is perhaps the most stressful period of a woman's life, emotionally and physically.
How Shiatsu Can Help Post-partum Moms:
Carrying and creating a child within ones body is obviously the a most amazing act! Basically the mother is using her energy to create this new being! Her body is literally being taxed, and drawn upon to create this new life. This causes basically a "withdrawal" of her Chi and Jing. These are names for the basic life forces in the body. In traditional Chinese Medicine which is the basis of acupuncture and shiatsu-this period of pregnancy extensively uses up, the mom to be's energy. The Kidney energy, and Stomach Spleen, energy are often especially depleted I find. Remember many organs that were literally pushed out of the way are regaining their tone and optimal function: the intestines, bladder etc.
Shiatsu unlike regular Western type massage, goes deeper than kneading muscles which has benefits as well. But Shiatsu massage for the post-partum mom can target specific meridians (lines of energy in the body,) where energy is depleted. A skilled shiatsu therapist has several methods to find which meridians are the weakest. Points on these energy lines are stimulated and tonified (built up.)
Over the course of even a few sessions, the new mom begins to feel a rejuvenation of her energy, a sense of calmness and stability that she had not had. Even after one session most people report feeling calm and deeply relaxed. To build up the energy account of the post-partum woman takes time. I recommend a minimum of 3 treatments to really rebuild the woman's energy. This is absolutely the best gift for the entire family: the benefits of shiatsu post-partum will show as increased calm, patience, better sleep, and overall energy of the mom. This of course will impact the well being and happiness of the entire family and household. The new mom will find her stamina, sleep quality and calmness increasing with each shiatsu treatment. I invite you to give it a try by contacting me.
Massage Ithaca, Shiatsu Massage Therapy. East State Street. Office 5 minutes from downtown, Ithaca Commons, Ithaca, NY. 14850/14853
[box]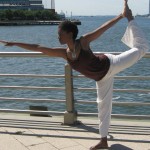 Vivinne (Kala) Williams
,
Yogini, Mystic, Educator. Certified yoga teacher since 1994, teacher of mindfulness meditation. Over 1,000 hrs. somatic training. Graduate of Spirit Rock Mindfulness Yoga & Meditation Training. Studied with Burmese meditation teachers in multiple 6 week long, silent meditation retreats. Full bio here. [/box]