A quick answer it depends.  Both definately have benefits and according to Chinese medicine Spring is the primary time of year to detox!  Your body at that time will be craving it and the organ system of Liver/Gallbladder will be primed and function best if a detox is done.  Check out the link Foodmatters.tv. for a short comparison.
And below, recommended books re: detoxing via juicing and or smoothies.  And some related articles from my archives that give more info on detoxing in Springtime:
A Beginners Guide To Juicing: 50 Recipes To Detox, Lose Weight, Feel Young, Look Great And Age Gracefully (The Juicing Solution) (Volume 1)The Complete Book of Juicing, Revised and Updated: Your Delicious Guide to Youthful VitalityThe Healthy Green Drink Diet: Advice and Recipes to Energize, Alkalize, Lose Weight, and Feel Great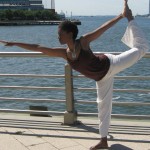 Vivinne (Kala) Williams
,
Yogini, Mystic, Educator. Certified yoga teacher since 1994, teacher of mindfulness meditation. Over 1,000 hrs. somatic training. Graduate of Spirit Rock Mindfulness Yoga & Meditation Training. Studied with Burmese meditation teachers in multiple 6 week long, silent meditation retreats. Full bio here.