Thus shall ye think of all this fleeting world:
a star at dawn,
a bubble in a stream;
a flash of lightning in a summer cloud,
a flickering lamp,
a phantom
and a  dream.
—The Buddha
This saying was given to me on a little bookmark, by one of my favorite meditation teachers-Myoshin Kelley, formerly of Insight Meditation Society in Mass.  She is currently studying/teaching Tibetan Buddhist practice in the mid-west.  Anyway… there is a sadness to it, teachings on impermanence often evoke that emotion.  Yet when she gave it to me in the midst of a retreat, I felt the words deeply.   The truth of them was visceral then. I think it was around Christmas or the New Year, so it's entirely appropriate to share with you now.  I was on retreat at the Forest Refuge (a part of the Insight Meditation Society.)  While ringing in the new year, don't forget your spiritual practice and it's place in your life.
Perhaps it's a good time to set an intention to cultivate a specific sadhana (any type of ongoing spiritual practice) each day.  Perhaps setting aside 20 minutes or 1/2 hour to meditate.  See more on how to meditate here.
Namaste, and very joyous, peaceful New Year to all.  May you greet whatever comes with equanimity.
Kala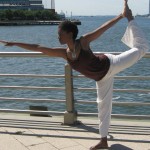 Vivinne (Kala) Williams
,
Yogini, Mystic, Educator. Certified yoga teacher since 1994, teacher of mindfulness meditation. Over 1,000 hrs. somatic training. Graduate of Spirit Rock Mindfulness Yoga & Meditation Training. Studied with Burmese meditation teachers in multiple 6 week long, silent meditation retreats. Full bio here.